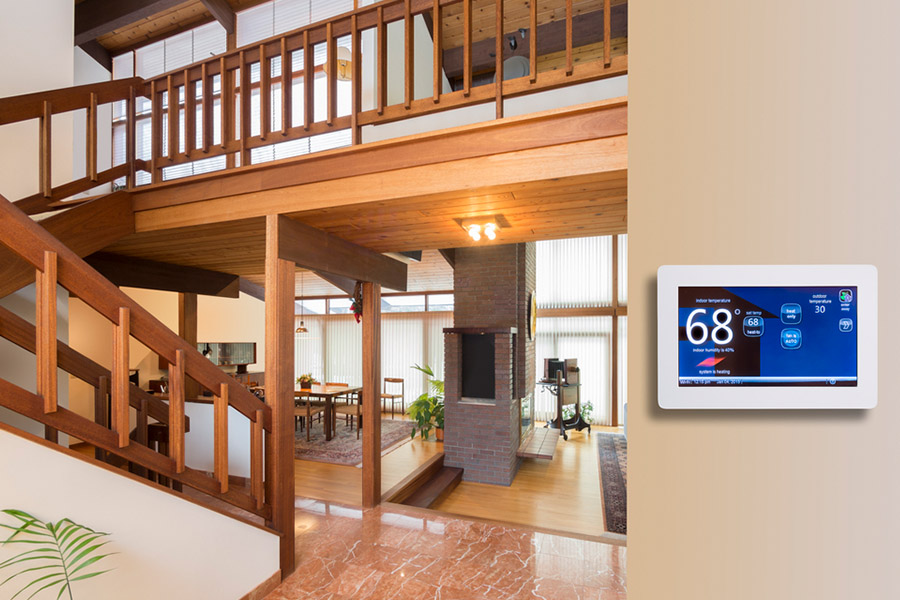 Why Install A Smart Thermostat In Lancaster?
Today's smart thermostats have evolved far beyond the rudimentary device for regulating your temperature settings. If you want to install a smart thermostat in Lancaster, you're going to gain much more comfort with far less hassle. Offering the benefits of wireless connectivity, sensors for multiple rooms, and the convenience of home automation, these remarkable instruments will bring down your energy expenses and improve your home's overall comfort and safety.
What Is A Smart Thermostat In Lancaster?
After your install a, your multi-faceted smart thermostat will operate in a similar manner as the old version in terms of basic temperature control. The look will likely be sleeker, but you can still see the temperature display. You'll still have the chance to raise and lower your temperature settings directly at the unit, and your thermostat will still allow you to switch between heat, cool, and fan.
But, when you install a smart thermostat in Lancaster, you will benefit from a wide array of exciting options. The reason for this is that the device is linked into a larger system, like your Google smart speaker or home security system. Through the use of a central interface or cell phone app, you are able to program your smart thermostat to change the temperature by itself at whatever times you choose or to react to different stimuli. In the end you have a property that is more energy conscious and comfortable.
Why You Should Install A Smart Thermostat in Lancaster
There are a range of justifications for switching from your standard unit to a smart thermostat:
● Easy control through a smartphone app. Take command of the thermostat remotely with a smartphone app such as the intuitive platform from ADT. Are you feeling a bit overheated while you're trying to sleep? Simply grab your smartphone and lower the temperature while staying in bed. Or monitor your house's comfort levels while on summer break, and alter the temp to save energy when nobody's there.
● Create smart schedules. An innovative smart thermostat allows you to implement one or more schedules for heating and cooling. Set different temperatures to best fit your lifestyle. Bring down the temp when it's time to go to bed, then bring it back up once more about an hour before you start your day. You can even design different scenes for certain situations -- for example a scene for when you're hosting a party or one for when you use the fireplace.
● Reduce energy consumption through automation. One of the best things about smart thermostats is they will lower utility costs. Because you can effortlessly alter comfort levels as needed in regards to the season, weather, or specific times of the day. There's no need to throw money away treating the air within an empty house. Additionally, when implementing schedules, your clever new tool adjusts itself. Many energy providers also provide rebates and savings programs on select models.
● Utilize vocal directives to control your smart systems. If you decide to install a smart thermostat in Lancaster, you may even hook it up to work with an Amazon Alexa or Google Home speaker. This allows you to manipulate your home's comfort without stopping what you're doing.
● Link your thermostat to other home automation items. If your smart thermostat is incorporated within an overall home defense package, you have the chance to connect all your devices together. This could help protect your property when disaster strikes. For example, you can set your thermostat to turn on the HVAC fan when your fire alarms sense excess heat.
Make The Switch To A Smart Thermostat In Lancaster Today
If your current thermostat falls short of meeting your energy reduction and comfort demands, you should upgrade to a versatile smart model. They're streamlined, easy to use, and can save money over the long haul. It's also best when you combine it with an advanced home protection package. Call us today at (717) 256-1587 or complete the following form to order your smart thermostat.